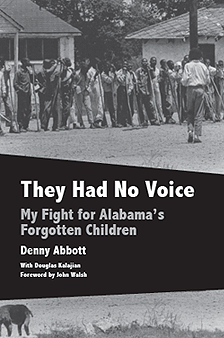 Purchase Now
They Had No Voice

My Fight for Alabama's Forgotten Children
Author:

Denny Abbott

Foreword:

John Walsh

With:

Douglas Kalajian
Denny Abbott was willing to put his life, his career, and his own children's future in jeopardy to speak for vulnerable children who were abused while in state custody.
- Morris Dees, co-founder, Southern Poverty Law Center
Children Denny had never met or would never meet were given a chance at a safer life because of one man's commitment and courage.
- John Walsh, host of America's Most Wanted
Denny's is a revealing journey that depicts a transformational time when deep-rooted convictions challenged the pursuit of justice and equality.
- U.S. Congressman Alcee L. Hastings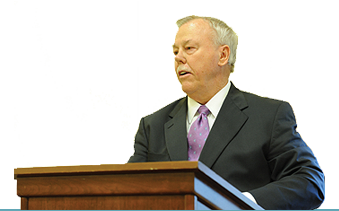 As a young man, Denny Abbott, a native born and raised Alabamian, repeatedly clashed with the State of Alabama as he fought to end beatings and sexual abuse of black children at a segregated state institution that was supposed to protect and educate them.
Frustrated by unsuccessful attempts to reason with racist officials, Abbott sought justice in two federal court class action lawsuits. In doing so, he placed his family and his career in peril and became a pariah in his home town and was threatened by the Ku Klux Klan. Abbott's ultimate triumph on behalf of those children led to major reforms and a new calling as a nationally recognized children's advocate.
Listen to the 8 episode podcast, titled "Unreformed", based on Denny's book, "They Had No Voice".
iHeart: https://www.iheart.com/podcast/1119-unreformed-the-story-of-t-107005437/
Apple: https://podcasts.apple.com/us/podcast/unreformed-the-story-of-the-alabama-industrial-school-for-negro-children/id1663696375
Spotify: https://open.spotify.com/show/2BgftMyQnZbqU9OFpGnFDS
Stitcher/Simplecast: https://www.stitcher.com/show/1051829
Pandora: https://www.pandora.com/podcast/unreformed-the-story-of-the-alabama-industrial-school-for-negro-children/PC:1001051829
Amazon: https://music.amazon.com/podcasts/f30b76e4-a130-4aa6-b923-24cabeaecd38/unreformed-the-story-of-the-alabama-industrial-school-for-negro-children