"They Had No Voice: Denny Abbott's Fight for
Alabama's Forgotten Children"
Written by Eugene Herrmann, Ph.D., Corporate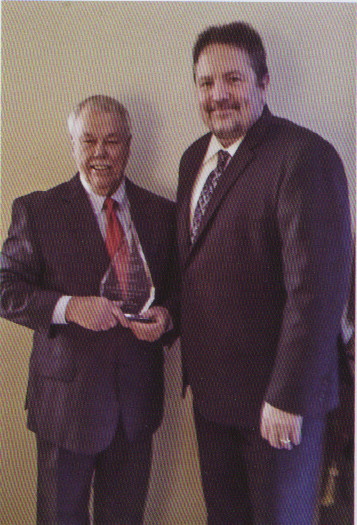 During the civil rights movement, Dr. Martin Luther King Jr. advocated for nonviolent activisim in a struggle to obtain civil rights for African Americans which were equal to those of whites. On August 28, 1963, Dr. King made his famous "I have a dream speech." His dream was, "that my four little children will one day live in a nation where they will not be judged by the color of their skin, but by the content of their character."
The Palm Beach State College in Lake Worth, Florida, presents The Martin Luther King, Jr. Leadership Awards annually to honor individuals and organizations that have made major innovative contributions toward improving the lives of others, particularly the underserved, through leadership, service and/or programs. I would like to tell you about one of htis year's winners, my father-in-law, Denny Abbott, who received the award on January 19, 2015, Martin Luther King, Jr. Day.
The ultimate measure of a man is not where he stands in moments of comfort and convenience, but where he stands at times of challenge and controversy. The true neighbor will risk his position, his prestige, and even his life for the welfare of others.
-Martin Luther King, Jr.,
Strength to Love, 1963
On March 25, 1965, Dr. Martin Luther King, Jr. led thousands of nonviolent demonstrators from Selma, Alabama, to the steps of the state capitol in Montgomery. Denny was standing o the state capitol steps in Montgomery on that day in 1965 when Dr. King and thousands of others marched from Montgomery to Selma. Denny grew up in Alabama and was a youth probation officer in Alabama during the 1960s when he observed that young African-American children were being abused at an all black state training facility. They were used as slave labor in the fields to assist local white farmers to harvest their crops. They were often physically and sexually abused by the staff and they were housed in deplorable conditions.
Denny made repeated requests to state officials to stop the abuse, but it appeared that no administrative relief would be implemented because no one seemed to care about black children at that time. To speak out against the abuse would be to put himself and his family at risk. "Why is this my fight?" he asked himself. Although it would have been much easier to look the other way as many others did, Denny filed a federal court class action lawsuit in 1969 with the goal of ending the abuse of these African-American children within the Alabama court system. The system soon thereafter was reformed, the entire staff fired, the farm program stopped and meaningful programs were established. Denny was later suspended from his job for filing this suit.
In 1972, he filed a second class action federal court lawsuit to stop the unfair treatment of orphaned African-American children who were being housed in correctional facilities instead of foster-care facilities. Major reforms were established and the children were accepted to foster care without regard to race. Denny was then fired for filing this second lawsuit.
Although Denny asked himself "Why is this my fight?" he decided that he could not stand by while children were being abused even though he was threatened by members of the Ku Klux Klan. Denny stood up to injustice while demonstrating the character, courage, and integrity to tend the abuse of children and to be a catalyst for societal change resulting in major reforms in the State of Alabama.
Denny Abbott epitomized and lived the words of Dr. King and was well deserving of the Martin Luther King, Jr. award. He demonstrated that one person could make a difference. Denny was later responsible for the operation of juvenile detention facilities in Florida. He continued his fight to end the abuse of children by working with John Walsh in starting the National Center for Missing and Exploited Children in 1984 and serving as the national director of the Adam Walsh Child Resource Center from 1981 to 1989. In 1990, he became the coordinator for victim services in Palm Beach County, Florida. He has been responsible for victim's rights legislation, which became law in Florida during the mid-1990s. He has served as an expert witness in court proceedings, has addressed Congress as an expert in the area of child abuse, and has been an expert source for major media outlets.
Denny has written a book about his past struggle to end the abuse of African-American children in Alabama entitled "They Had No Voice: My Fight For Alabama's Forgotten Children."