Denny Abbott receives Martin Luther King Jr. Leadership Award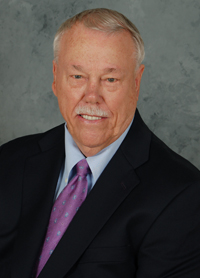 Denny Abbott risked his own life to improve the lives of helpless children. He was a youth probation officer in Montgomery during the civil rights movement when he felt a conviction to correct wrongdoing by the state of Alabama.
He filed a federal lawsuit in 1969 to stop institutional abuse of black children in the Alabama court system. Instead of being reformed, the children were housed in deplorable conditions in a state correctional facility, used as slave laborers on prison farms and abused. In 1972, he filed another federal lawsuit to stop the unfair treatment of orphaned black children who were being housed in juvenile detention facilities instead of foster care facilities.
Eventually, Abbott was fired for filing the lawsuits and faced death threats from the Ku Klux Klan, but his actions led to major reforms in the state. The correctional facility "farms" were disbanded and every staffer was fired. Then vocational rehabilitation and social services were instituted. When Florida began taking over the detention centers in 1973, Abbott became the regional detention director for Palm Beach County, Orlando and Fort Pierce.
Abbott, author of "They Had No Voice: My Fight for Alabama's Forgotten Children," continued his work in Florida to make a difference. He helped John Walsh start the National Center for Missing and Exploited Children in 1984 and served as national director of the Adam Walsh Child Resource Center from 1981 to 1989. In 1990, he became coordinator for victim services in Palm Beach County. He also wrote victims' rights legislation, which became Florida law in the mid-1990s. He has served as an expert source for major media outlets and Congress.